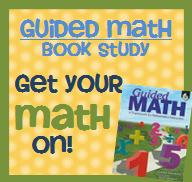 Sorry for my bloggy absence. My sweet grandmother passed away Saturday night. The past few days have been very difficult. Please keep my family in your prayers. I decided I needed to focus on something else for a while today so I read Chapter Three of Guided Math. The lovely ladies over at
Making it As a Middle School Teacher
and
My Second Sense
are hosting this chapter. Head over and read what other people thought of Chapter Three and link up. Here are my thoughts:
This chapter was about the importance of meaningful morning math routines. I agree with the author, Laney Sammons, that kids need this time to transition from home to school. However, this time needs to be MEANINGFUL! Ah there is that word again. Meaningful. Say it with me now...meaningful! Don't feel too bad- I am guilty of morning busy work too! After reading this chapter I have a few tricks up my sleeve for this upcoming class. Laney gives us some great ideas to get kids thinking. My favorites are the number of the day, What's Next?, and How My Family Used Math Last Night. I encourage you to read this chapter to learn more about these MEANINGFUL routines.
Note to teachers: Remember these are routines that need to explicitly taught and modeled for your kids in order for them to get the most out of them. They are going to require some careful planning to kick start prior knowledge, aid in mathematical connections, and engage kids. I plan on setting up a weekly schedule with some of the morning math stretches as a guide. Not only will this help me plan and stay accountable- it will help my kids know what to expect (and we all know they need that!).
Oh and don't you just love how Laney connects a lot of these skills to reading! I do!!
Remember- I am hosting Chapter Four starting Sunday!